Justin Bieber Charms Fans With Acoustic Set
July 14, 2012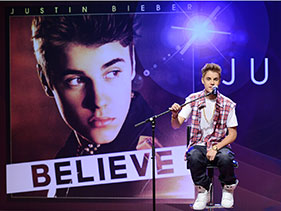 Justin Bieber charms at his press conference
In town for MTV World Stage Live in Malaysia 2012, Justin Bieber first made a stop to his Southeast Asia Press Conference at the Plenary Theatre at Kuala Lumpur Convention Centre on July 14, 2012 this afternoon.

Decked in a basic white t-shirt and checked outer vest with clean white high-cuts, Bieber performed seven acoustic songs with full vigour and enthusiasm, including songs off his latest album, Believe. Together with his guitarist, Dan Kanter, Bieber serenaded the crowd with songs such as "Baby," "Be Alright," "Fall" and "As Long As You Love Me" just to name a few.

In between songs, he also made his fans feel like a million bucks by inviting a fan on stage, as well as replying "I love you more" to fans who shouted "I love you!" to him. Upon finishing his set, he was presented with a special gift - a left-handed Gibson J-45 Vintage Sunburst guitar with a compilation of his fans' tweet printed on the back. "This means the world to me!" he exclaimed to the audience as he proceeded on to a live interview with MTV VJ Holly Grabarek.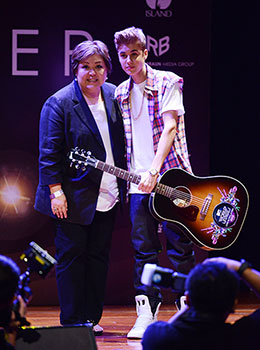 Indra Suharjono, Viacom International Media Networks' executive vice-president
and managing director of Asia, presenting a left-handed Gibson J45 Vintage Sunburst Guitar
with MTV World Stage Live in Malaysia 2012 logo
"The main theme of
Believe
, is to just believe really! It's having something inspiring and is something people can be inspired by," he said about the heart behind his latest album. When asked whether there will be more up-tempo tracks to come, Bieber shared that his music is very balanced, including both up-tempo and intimate slow songs, and that he wrote
Believe
for his fans.
Also answering a few fan questions, he said, "The best thing about being famous is performing, singing, doing acoustic shows and dancing. But it's about getting it down and performing acoustic sets."
Story by Natalie Yeo
Photos by Kristian Dowling